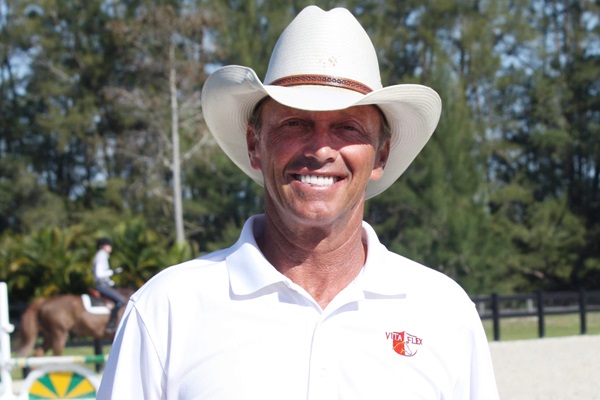 When show jumping star Todd Minikus says he's "going riding," that doesn't necessarily mean he's saddling up a horse. He may be headed out on one of three Harley Davidson motorcycles or jumping on the back of a bull.
"I think bull riding is the greatest sport in the world," Todd says.
According to Todd, anyone who competes in show jumping can ride a lot of bulls with some amount of success. The rear, drop, rear, drop motion of approaching, taking off and landing a jump mimics the trashing motion of a bucking bull, he explains. He has even trained with eight-time Professional Rodeo Cowboys Association world champion bull rider Donald Gay and retired professional bull rider Terry Holland from Carthage, Texas.
He doesn't regularly ride bulls, but he rarely misses an opportunity to attend the annual Professional Bull Riding Championships as a spectator. The Iowa-born jumper infuses his love for western culture into his English riding world, replacing his helmet with a cowboy hat as soon as he's on the ground. His home looks more like a western ranch where cattle should be grazing than one with a barn full of jumping horses.
More likely if Todd's "gone riding," and it's not on a horse, he's revved the engine on one of his Harleys. The longest ride he's completed thus far has been a 16 hour trip from Raleigh, North Carolina to his current home in Wellington, Florida. Attending the annual Sturgis Rally in the Black Hills of South Dakota is one of his bucket list items.
Enjoying various forms of riding is part of Todd's approach to success as a show jumper. A riding career can be all-consuming, he says. The Harleys and the bulls offer time to find balance. Over his 40 year career he has earned more than 130 national and international grand-prix wins. He's represented the U.S. on multiple Nationals Cup teams, is a two-time bronze medal U.S. Pan American Team member and served as an alternate for the Olympic Games.
He's celebrated numerous victories like winning 1990 President's Cup, sweeping wins in all the open jumping classes at the 1990 Washington International Horse Show, claiming first-place victory in the Zoetis $1 Million Grand Prix in Saugerties, New York and countless others.
Of all the honors, he says that being named Horseman of the Year in 2014 has been the highlight of his career. "I think it's an honor to win that award because it takes more than riding. It's about being a horseman and there's a lot more to success in the horse industry than just being a world class rider."
Staying at the top of his game requires hard work and a commitment to the sport. But he says that successful grand-prix contestants are more than being a talented rider.
"Accomplishing international show jumping success means being be a world class veterinarian, blacksmith, horse shipper, groom and manager because the horse's health is most important," he says.
E-mail Signup
Receive the latest news and product updates from Vita Flex
Subscribe