Adrienne Lyle: Staying Grounded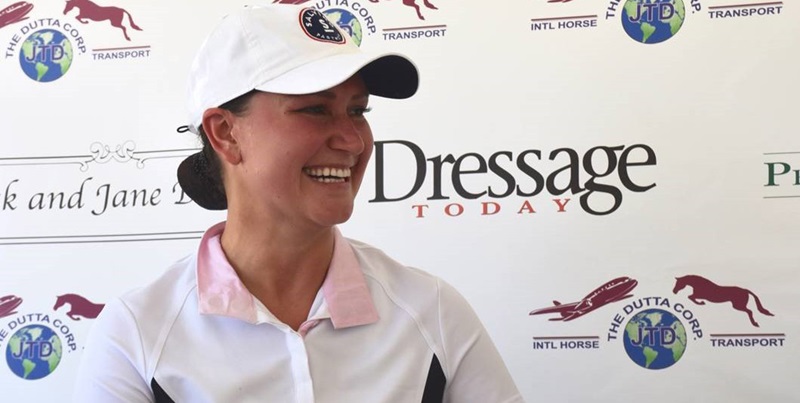 Adrienne Lyle is currently the No. 2 ranked dressage rider in the United States and No. 18 in the world. When she's not riding, she's listening to music or climbing mountains.

When Adrienne Lyle arrived for her first dressage lesson at age 7, she had a fat pony outfitted in a western saddle. She was born and raised on a small cattle farm on Whidbey Island, Washington where she spent hours riding along the beach and through the nearby trails.
Today, the Olympian and internationally recognized rider is a member of the USA team and was selected to spend two months in Europe this summer in hopes of qualifying for the World Equestrian Games. She is currently ranked No. 2 in the United States aboard Betsy Juliano's stallion Salvino.
"I've never worked with a stallion before Salvino," she said. "He's so sweet and a gentleman. He's well behaved."
This season she has also competed Juliano's mare Horizon in CDI events and syndicate-owned Harmony's Duval in national Grand Prix competitions. She's also been showing Susan Dutta's Dimacci DC. Highlights from this year's show season includes Individual and Team Gold Medals at the Wellington CDIO Nations Cup, on Salvino, first place Grand Prix and Grand Prix Special at Wellington CDI-W, first place Grand Prix Special Wellington CDI 5-star and double wins at national Grand Prix on Harmony's Duval at Tryon. She also had multiple top finishes aboard Horizon.
"All of the horses I am campaigning are incredibly talented and all really different," she said. "Each one has different strengths and different things that require a little more work, so it's been a fun puzzle to figure it all out," she said.
Growing up in Washington, Adrienne developed as much a love for the outdoors as riding. She camps, hikes and rafts whenever time allows. She has done week long river trips on the Grand Canyon's Snake River and one day she'd like to hike in South America and Europe.
"Being out on the trail is a nice mental break," she said.
It's difficult to find time for these activities, especially when she'll be in Europe training and competing for most of this summer. Luckily, she's equally passionate about music and music is a lot easier to transport overseas. She admits that when she's left alone at TYL Farm that is owned by Kylee Lourie, the facility where her training business River Grove Equestrian LLC is based, she has the music blaring through the ceiling installed sound system.
"I'm a big fan of singer/songwriter music," she said. "Janis Joplin, Grateful Dead and Jim Croche are a few of my favorites."
Adrienne and Team USA qualified for the World Equestrian Games and competed this month at the Tryon International Equestrian Center in North Carolina. Adrienne's hard work paid off and Team USA brought home the silver! Keeping an eye on the long-term goals is also important to the rider who specializes in developing young horses.
"Now that Salvino is much more confident in his daily work, I'm looking for ways to incorporate more of a fitness routine so we're not drilling every day," she said.
E-mail Signup
Receive the latest news and product updates from Vita Flex
Subscribe