Behind the Scenes with Patty Stovel
Sometimes it's the small details on the path to pursuing greatness that are most appreciated. When hunter/jumper trainer Patty Stovel and partner Sarah Lane bought their current farm in Georgetown, Kentucky they focused their energy on renovating the barn. Building their own house had to wait.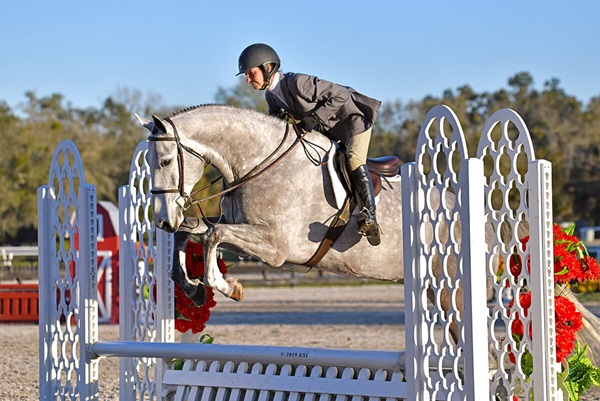 For four years they lived in a camper while transforming the barn into a facility that included twelve 12' x 12' stalls, an air conditioned and heated tack room, two large grooming stalls, and a wide cemented aisle with drains at both entrances to prevent flooding. When their house was finally completed, Patty remembers noticing how quiet it was inside despite a rainstorm.
"I remember thinking wow, I can't hear the rain on the roof," she says laughing. "That was pretty nice."
Patty believes that sacrifice is one key ingredient to success at the highest levels of the sport. The other is being in tune with the horse by doing her own work grooming and getting the horse ready. Those were two lessons she learned in childhood riding alongside her mom in Connecticut who ran a large lesson and camp program.
"Being second on a horse I brought along myself was a really special moment for me," she says.
At age 19, Patty went to work for Otis (Browning) Brown at his Brass Lantern Farm in Nashville, Tennessee. The dynamic duo trained many successful hunters and jumpers. Together they amassed eight championships in the International Hunter Futurity during their 12 years together.
Then she decided it was time to go out on her own. She purchased Mont Cenis, then a 5-year-old jumper prospect, the horse that defined her career. The pair were the top American Finishers (13th overall) at the 1994 World Equestrian Games at the Hague in Holland. They went on to win an Olympic qualifying trial before soundness issues took them out of contention for a spot on the United States Equestrian Team.
Three years later, she went to work for Top Brass Farms in Ft. Lauderdale, Florida where she met Daryl Portela and his horse Frascati who was transitioning out of the jumper circuit into the hunter ring. Under her guidance, the horse won back-to-back Horse of the Year titles in 1999 and 2000 in both the Regular Working and Amateur-Owner Hunter divisions.
She went back out on her own, relocating to Georgetown, Kentucky where she continues bringing young horses along while traveling far less to compete at the most prestigious shows on the circuit.
"May through September we're competing literally five miles down the road at the Kentucky Horse Park, which hosts many A-circuit shows," she says. "The Ohio World Equestrian Center is only 100 miles away, so we just don't need to travel as much."
Training and coaching remain central to Patty's business while she broadens her work to include earning her judge's license. She commentated at the Maclay Finals at the National Horse Show in preparation for the test to earn her license.
"I'm still training young horses, but the next step is judging, or at least that's what everybody tells me," she says.
E-mail Signup
Receive the latest news and product updates from Vita Flex
Subscribe