Vita Flex Welcomes Professional Barrel Racer Jackie Ganter to the Vita Flex Victory Team Rider Family
PHOENIX, AZ — Vita Flex, leading producer of advanced equine performance products, recognized 20-year-old Jackie Ganter's dedication and continued success in the discipline of barrel racing by welcoming her into the Vita Flex® Victory Team Rider family. In the competitive sport of barrel racing, fractions of a second can make the difference between a good ride and a great ride. Vita Flex is thrilled to help top riders like Ganter cross that fine line from good to great by providing a variety of high-quality equine products, including antioxidants, electrolytes, vitamins, minerals and topical solutions to help keep horses in peak health.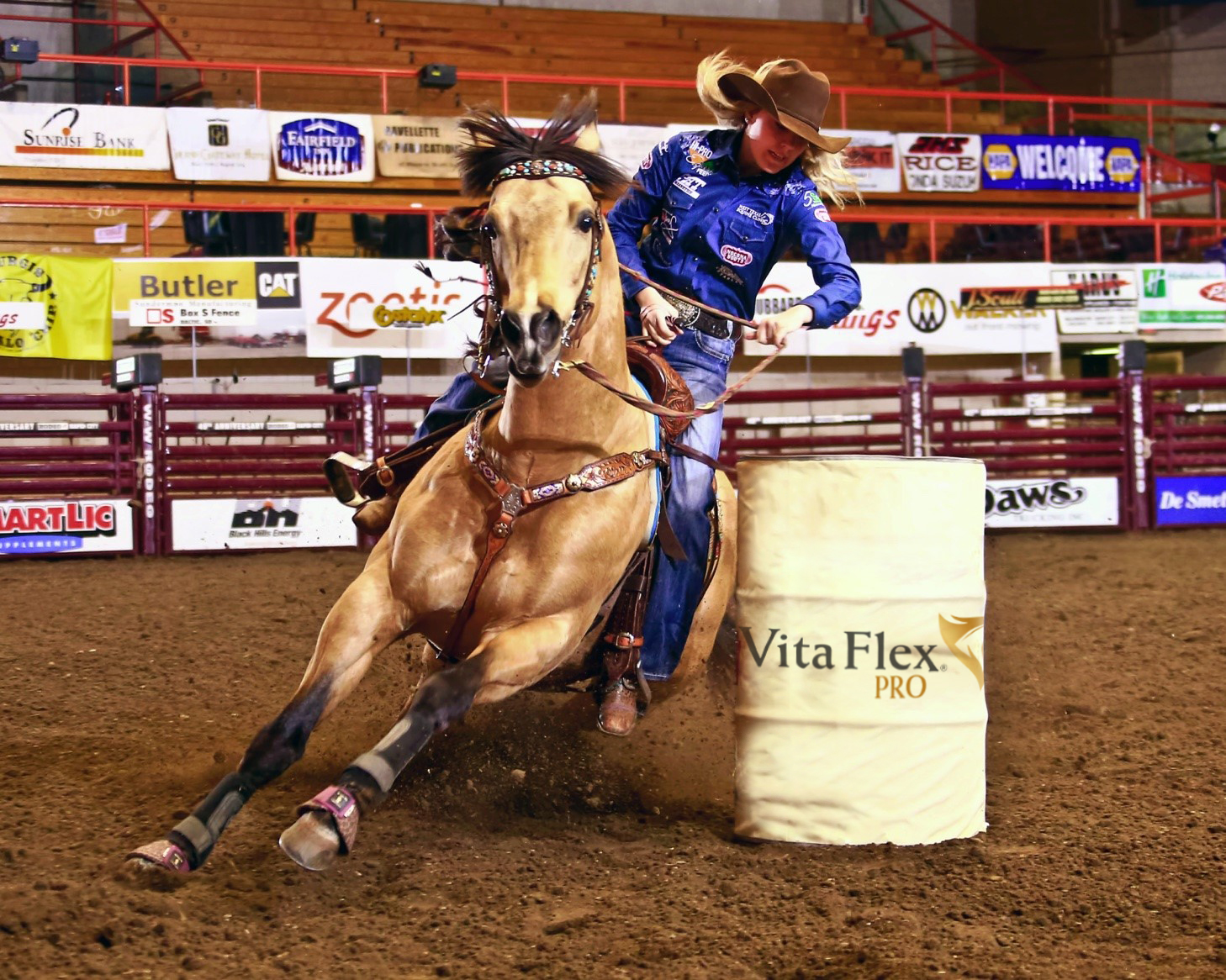 For new Vita Flex® Victory Team Rider Jackie Ganter, barrel racing is a family affair. Ganter started off riding English, but after taking her pony as far as she could, she swapped her jodhpurs for a pair of chaps to follow in her mother's footsteps as a barrel racer.
"My mom had me on a horse the day I came home from the hospital, and whenever I could start riding myself I did," said Ganter.
20-year-old Ganter turned pro the day she turned 18, and that same year she was named Women's Professional Rodeo Association Rookie of the Year and qualified for the Wrangler National Finals Rodeo. She won rodeos all over the United States and Canada and qualified for the NFR again in 2016.
"You're always striving to be better and I'm kind of a perfectionist when it comes to running barrels, which I think is what keeps me going," she said. "Very rarely are your runs perfect, so it really keeps me going trying to perfect myself and my horses."
Today, she competes on a fleet of different horses, including Cartels Fame, Guys French Jet, Recent Release and Blazin Baby J, among others, and all of whom she barrel races at rodeos throughout the year.
"It takes a lot to keep my horses going," she said. "Their feed program is definitely vital. It's hard on the road to keep weight on them and keep them looking how they should look and feeling good and at the top of their game."
As a newcomer to the Vita Flex® family, Ganter joins an elite team of premier equestrians like dressage's Adrienne Lyle, Lisa Wilcox and Caroline Roffman; hunter jumper riders Todd Minikus and Patty Stovel; and cutting and reining horse trainer Al Dunning, who all rely on Vita Flex's top-quality line of equine performance supplements to keep their equine athletes in peak condition.
Ganter already used Vita Flex® supplements for her barrel horses and said, "It kind of was just fate that I get to be a part of the team now." As a long-time user of Vita Flex® products, Ganter swears by the entire line to keep her horses in peak condition. "I use almost all of Vita Flex's products and everything there is to offer is vital to each of my horses," she said. "Everything they get fed is for a reason and to build them up."
Ganter's short-term goals include pushing harder for more success at the winter rodeos in Texas this year. Her long-term goals are the same as any freshly turned professional. "For anyone who rodeos, their goal is to win a World Championship and that's a huge goal and dream of mine," Ganter said. "You have to work for it as hard as you can, but all the cards have to play in your favor too. I think it involves a lot of luck and when you hit right. It would be a dream come true to win the World and I work toward that."
Trusted by top owners, trainers and riders for over 20 years, Vita Flex's premier line of equine health and performance supplements are backed by research from nutritionists and veterinarians. The entire line of Vita Flex® products includes a wide range of antioxidants, joint supplements, electrolytes, topical ointments, vitamins and minerals to help keep equine athletes in top condition. For more information about Vita Flex and its line of superior equine products that power Ganter's barrel horses, visit vitaflex.com.
Vita Flex is a registered trademark of Farnam Companies, Inc.
E-mail Signup
Receive the latest news and product updates from Vita Flex
Subscribe