Can My Horse Travel Internationally? | Vita Flex
If horses received frequent flier miles, some top competition horses would rack up as many as a business traveler. When it comes to international travel, today's equine athletes routinely ship by plane, and the process is both efficient and safe.
International air travel may require more paperwork and preparation, but horsemen often find it's not as stressful on horses as shipping long distance by van. This is mainly due to the climate-controlled environment and smooth ride.
To find out more about what is involved when horses take to the skies, we turned to the experts at Mersant International, Ltd. The Jamaica, New York-based shipping agent, which also maintains an office in Lexington, Kentucky, has been flying horses since 1977.
"We're like a travel agent for horses," says Joe Santarelli, Jr., one of the company's owners and partners.
Preparing for Travel
Shipping by air requires more paperwork than ground transport, with the exact requirements depending on the specific destination country.
Each country has an import license and the ultimate say on the requirements that must be met for a horse to enter its borders. The shipping company will know what is required, as well as the specific time frame for blood tests and any necessary vaccinations. (To learn more, visit aphis.usda.gov/regulations/vs/iregs/animals/)
It is the responsibility of the shipping company to inform the horse's owner of all travel requirements for the horse and any grooms/handlers who will be traveling with the horse. For example, a groom who is not a United States citizen might require a visa, depending on the country from which his or her passport is issued.
Whether a horse must enter quarantine before travel depends on whether or not that horse is leaving the United States permanently, or will be returning. For example, Santarelli explains that a horse being exported to a European Union country or the United Arab Emirates will have a minimum 30-day quarantine before departing the U.S.
Let's consider the American horses traveling to compete in the 2016 Summer Olympics in Rio de Janeiro, Brazil. Those horses will be returning to the U.S., so they will be quarantined upon their return to the States, but not prior to leaving.
A key to successful travel is making sure horses are in the best shape possible before they ship. This includes being up to date on all necessary vaccines. No matter where they're headed, standard vaccine requirements include eastern and western equine encephalomyelitis and equine influenza. Any additional vaccination requirements will depend on the specific destination country.
Certain blood tests with negative results will also be necessary before a horse can travel. For example, horses headed to Brazil for the Olympics must test negative for vesticular stomatitis (VS) and equine infectious anemia (Coggins test), along with a negative equine viral arteritis (EVA) test for any intact male horse. An import permit issued by the Brazilian ministry is also required to allow the horse entry into Brazil.
If Mersant were to ship an Olympic team horse, they would recommend that their client pre-test the horse for dourine, glanders and equine piroplasmosis, as the U.S. requires that these tests be negative for reentry.
Blood is sent to the National Veterinary Services Laboratory in Ames, Iowa. All tests results, vaccination records and international health papers are then endorsed by an accredited veterinarian hired by the United States Equestrian Federation (USEF). Paperwork is then sent to the USDA for signature.
Santarelli notes that all documentation, including the horse's Fédération Equestre Internationale (FEI) passport and international health papers, are placed in a sealed envelope and put in a document pouch that is kept with the horse. It is the groom/handler's responsibility to see that these documents are given to the proper officials upon arrival in the destination country. This information is also available to the USDA and the airline, if they request a copy.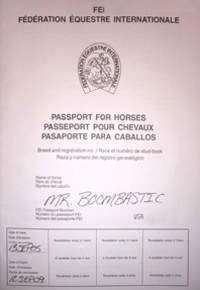 The paperwork for Olympic team horses also includes reentry permits, which the shipping agent prepares before the horses depart the U.S. to help expedite the process once those horses return to American soil.
Time to Go
As departure date approaches, the shipping agent hires a commercial equine tractor trailer to pick up horses at their home farms/stables and haul them to the port of export. (On the East Coast, this is usually New York, Atlanta or Miami.)
Upon arrival, horses unload from the truck and enter a barn at the airport's export center. (This is a USDA-approved quarantine center.) Horses will have a minimum of five hours' stall rest, often longer, before they're loaded onto the plane. On occasion, weather causes flight cancellations and delays, but at least horses aren't stuck killing time in a boring airport lounge. If the delay is long, they will be returned to the stalls at the airport's export center to rest.
If the horse's owner wants the horse "oiled" to help prevent colic, a veterinarian administers mineral oil via nasogastric tube anywhere from three to 12 hours before the horse ships.
If the horse is accustomed to wearing shipping boots and/or wraps, these are put on before he's loaded onto the plane. If a horse isn't used to such leg protection, this is not the time to introduce anything out of the ordinary.
When the plane is preparing for departure, horses are inspected by a USDA representative to be sure they don't have a fever and are fit to travel. Horses are then loaded onto a van and driven directly to the plane.
Most of the time when flying horses, Mersant leases and buys space on cargo airlines, such as Air France, Federal Express, KLM, Emirates Cargo, and Singapore Airlines. At other times, depending on the destination, horses fly on chartered planes.
Some air transport companies using smaller planes require horses to walk up a ramp into the plane, just as though they were walking onto a van or trailer. For international travel with large jets, horses are loaded directly into their traveling stalls on the tarmac. These stalls, which are on pallets, are then raised by a platform lift to the level of the plane, slid inside the open doorway and secured into the pallet system that is locked down on the floor of the plane. Stalls are placed in the pallet system according to strict weight and balance requirements.
The "jet stall," as it's known, is typically about 8 x 10 feet with 8-foot-tall sides, and can hold three horses in individual side-by-side standing stall compartments. Horses are cross-tied, and there's a breastplate across the front of the stall. In some cases, an owner may pay more for a double stall in which the horse usually is not tied. Shavings are typically put down over the stall flooring.
The horse's paperwork must accompany the animal at all times. This is typically in the possession of the groom who travels with the horse. In some cases, there are even private veterinarians accompanying the horse(s). The grooms are with the horses at takeoff and landing, and they check on them periodically throughout the flight.
Although people might think flying would be traumatic to horses, in general horses are not sedated unless absolutely necessary.
"Most horses are okay without being tranquilized," says Santarelli. "They are well-handled and the grooms know their every move. With the current heightened security concerns globally, most airlines have a policy that any medical bag containing tranquilizers, sedatives, etc. is required to be given to the crew and kept on the flight deck, not in the cargo area with the horses. If a horse requires sedation for some reason, the groom has to get permission to get the medication from the flight deck."
En Route
In the jet stall, horses have a hay net in front of them at all times, typically either alfalfa or timothy, depending on what the owner prefers.
"If a horse is used to a specific hay, we recommend the person shipping the horse send the same hay, but if they don't, we will provide similar hay," says Santarelli. "With competition horses, owners and trainers want to keep their plans in place and not break routines. Feeding is probably the biggest part of this, so we don't want to change a thing."
In an effort to maintain routine, some trainers want their horses to be fed grain at the same intervals they would at home, but at a reduced amount. Other trainers want their horses to have only hay and water during travel.
Great emphasis should be placed on keeping horses well hydrated before, during and after the trip. During the flight, the horses are watered by hand, so the groom/attendant can monitor how much each horse is drinking. In some cases, horses may receive intravenous fluid therapy upon arrival at their destination.
The horses' cargo compartment is cool (about 68 degrees), and once the plane is in flight, the lights are usually dimmed. Many horses will just lock their legs and sleep.
Destination Reached
Once the plane lands at the destination airport, horses are unloaded and protocol followed as per the destination country's requirements.
Horses are closely monitored in terms of appetite, attitude, feed and water consumption and manure and urine output to be sure all is normal. Temperature is taken daily to determine if the horse is running a fever. Anything outside the normal parameters for the horse is addressed by a veterinarian, if necessary.
The quarantine process upon returning to the U.S. depends on the country the horse visited. For example, the U.S. Olympic horses coming home from Brazil will have a seven-day quarantine period at the American airport where they reenter the country. During this time they are kept in the USDA quarantine facility and are isolated from any horses returning from other countries.
Upon arrival to the U.S., blood is drawn from each horse and sent immediately to the National Veterinary Services Laboratory in Ames, Iowa. The horses are again tested for dourine, glanders, equine piroplasmosis and equine infectious anemia. During the quarantine period, horses are closely observed and a temperature protocol is followed to make sure they don't have a fever. Once the blood tests come back negative, horses are released from quarantine and the shipping agent arranges for them to be trucked back to their respective home farms/stables.
Attentive observation over the next several days should continue once the horse is finally back in his familiar surroundings. Even when tired from travel, a healthy horse should be alert and should voluntarily drink and eat.
Any abnormalities, including fever, depression, lack of appetite or signs of respiratory problems, warrant examination by a veterinarian. An increased temperature is a sign something is going on, and when detected promptly can be checked by a veterinarian and treated as necessary.
E-mail Signup
Receive the latest news and product updates from Vita Flex
Subscribe