Meet Adrienne Lyle in The Arena - Victory Team Rider | Vita Flex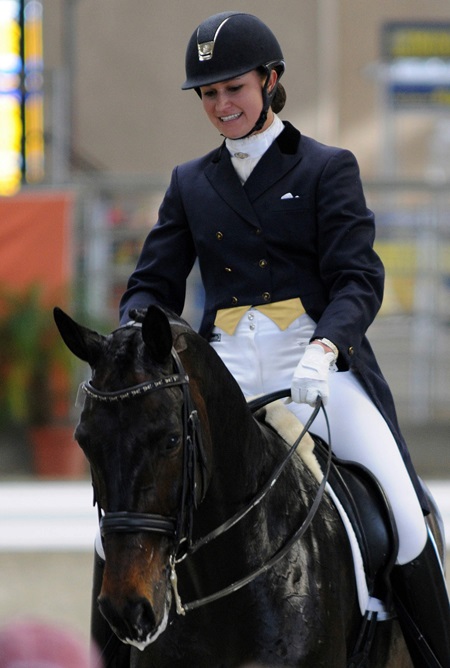 Born and raised on a small cattle farm in Washington, Vita Flex® Victory Team member Adrienne Lyle has always had a passion for horses. The family had two Shetland ponies, Mopsy and Flopsy, and Adrienne would spend all day playing cowboys and Indians on horseback and riding on the beach. She did Western games and barrel racing for awhile, then decided to learn how to jump, so she joined the United States Pony Club at age 8.
Adrienne was introduced to dressage when she began three-day eventing. A member of the silver medal team at the 2002 Cosequin Junior Dressage Team Championships, she was also a member of the bronze medal Region 6 team at the 2004 North American Young Rider's Championships.
She studied animal science/pre-vet at Washington State University before moving to Idaho in 2005 to take lessons from top dressage rider Debbie McDonald. This turned into a working student position and then a full-time job at Parry and Peggy Thomas's River Grove Farm. She was selected for the Dressage Foundation's Young Rider Olympic Dream Program and toured some of Europe's top dressage facilities.
"Debbie McDonald is an amazing trainer/mentor/role model/friend," Adrienne says. "I not only admire her training and riding abilities, but I'm continually amazed at how much she's willing to go out of her way to help me in any way she can. I admire her selflessness and generosity and her true passion for our sport.
"I've had the opportunity to train with some of the best trainers in the world and compete in top competitions throughout the United States and Europe. The year I won the Brentina Cup on Wizard was very special. I also recall the first year I went to Gladstone for the USEF Festival of Champions. On the last day, Wizard and I won the Grand Prix Freestyle in the pouring rain. It was our first victory playing with 'the big boys' in the open Grand Prix."
Her 2011 accomplishments include winning the Grand Prix Freestyle Saugerties CDI 3* with a 74.9% and winning both the Grand Prix and Grand Prix Freestyle at Devon CDI 3*. In 2012, in addition to numerous firsts in Grand Prix and Freestyle classes, she represented the U.S. at the 2012 London Olympic Games. "London was my favorite place to show," she says. "The whole Olympic experience was incredible and the venue was amazing."
Adrienne is a dedicated horseperson who currently works seven or eight horses daily, schooling them four days a week, then hacking them out on trails two days a week. She also hand-walks several horses in the afternoons. A well-rounded person, Adrienne also cares deeply about the environment and is involved in conservation. The United States Equine Rescue League is her favorite charity. "I love any charity that rescues abused or neglected horses or animals," she says. "My adorable miniature Australian shepherd, Tia, travels with me everywhere.
"I would tell aspiring equestrians that being an equestrian is more than just being a rider. I strongly believe that a good horseperson not only rides well, but takes the time to educate themselves on all aspects of horse care, and are involved with the daily maintenance and care of their horses. There are no shortcuts. There is no substitute for hard work and hours invested. If you keep working hard, someone just might recognize your efforts and reward your hard work."
As someone who's intimately involved in her horses' health, one of Adrienne's favorite products is Vita Flex® Masters Hoof Blend. "I love Masters Hoof Blend to keep their hooves in top shape," she says. "I have found the E-5000™ really helps keep their skin and coat healthy. And I use the Vitamin C supplement to help boost immunity before the long haul from Idaho to Florida.
"Win or lose, after a competition I always take my groom Ruben Palomera out for some Mexican food and margaritas," Adrienne says. "Grooms work tireless hours, behind the scenes, so that we riders can go down centerline, and I want to be sure they always know how appreciated they are! Every time you go in the ring, it's a learning experience. I think you have to go with the attitude of 'OK, I'm glad I see where we went wrong because now we can start coming up with a strategy to address that issue.' Don't dwell on a bad showing too much. With human error, and animals being animals, sometimes things just don't go right and it's better to put it out of your mind and move forward. There will surely be more ups and downs along the road to come, and you just have to go into everything knowing that comes with the territory."
Adrienne says the hardest part of being a professional rider is missing out on a lot of things because of travel involved with competing. "It's hard to find a balance between doing what you need to do to stay at the top of your game, and also making time for important things like family and friends, but it makes me cherish the time I do have at home even more.
"Ten years from now, I'm not sure exactly where I'll be, but I absolutely hope I'm still able to make a living training and competing horses. On whatever scale it ends up being, as long as I can wake up every day and work with these amazing animals, I will be happy."
E-mail Signup
Receive the latest news and product updates from Vita Flex
Subscribe