Meet Lisa Wilcox in The Arena - Victory Team Rider | Vita Flex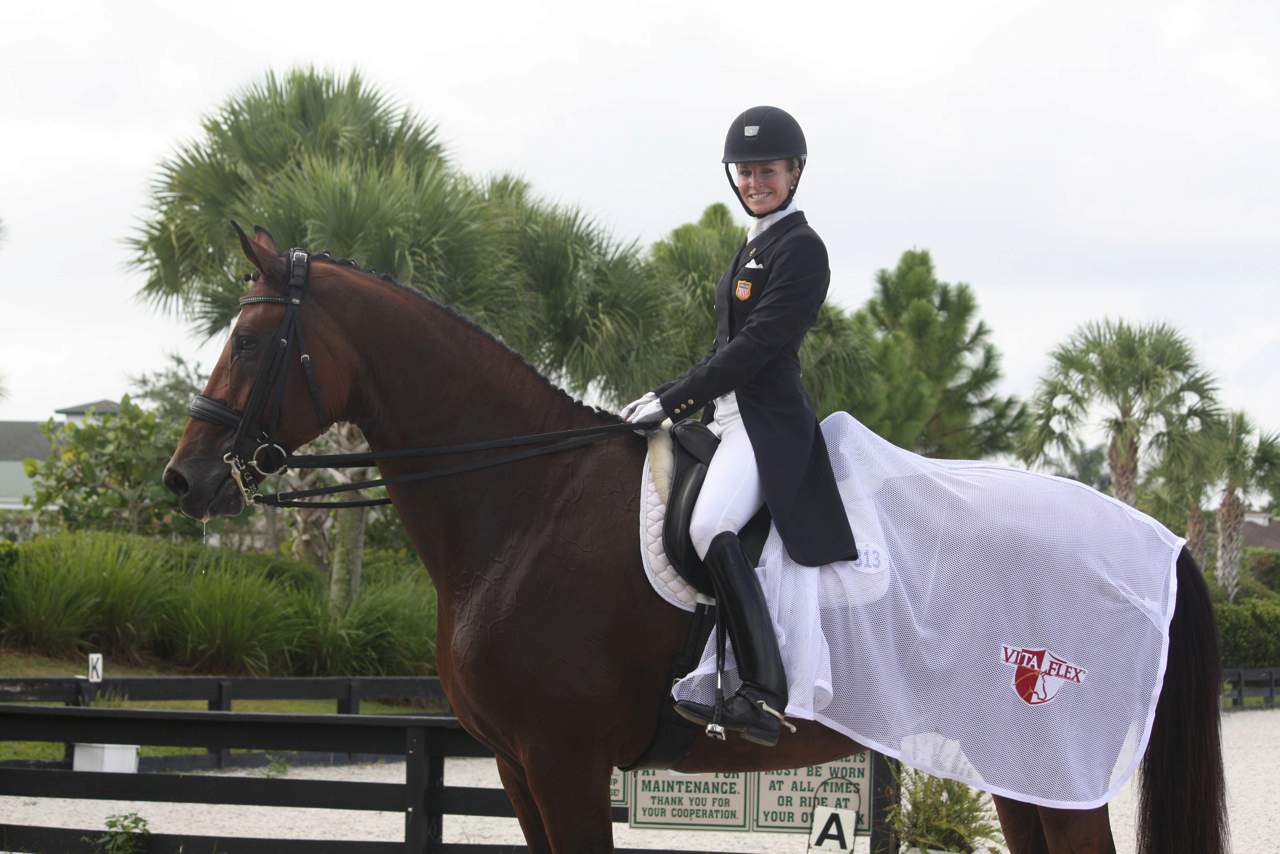 Lisa Wilcox grew up on a farm in Larkspur, Colorado, learning to ride under the tutelage of her father on Western horses. She learned the virtues of competition early as one of seven siblings, and the experience of growing up with a large family prepared her well for her current work as a top competitive dressage rider and member of the Vita Flex Victory Team.
After a brief time training in dressage in California, Lisa went to Europe and had the opportunity to train with Herbert Rehbein in Germany. During her twelve years training in this highly competitive environment, Lisa says she "started at the bottom and they watched me work my way up. I went to their schools, I studied as a rider and I took my instructor's exam [the German National Federation exam]." Despite the intensity of training, she quickly earned a reputation from her fellow equestrians of "Lisa Wilcox does it with a smile" because of her unwavering tenacity and consistent good humor even in tough conditions. The line stuck and still today remains her motto.
In 1997, Lisa gained a position as trainer for the renowned Gestüt Vorwerk in Germany. She was awarded the "Deutsche Reitabzeichen in Gold" in 1999, her first European competition rosette. This was followed by training and competition with international Grand Prix champions Relevant, Rohdiamant, Royal Diamond, and Friedenfuerst. In 2000, Lisa and Royal Diamond won the Bundeschampionat in Warendorf. In the same year, Lisa and Royal Diamond took second place in the Grand Prix Freestyle at the International Stallion Show in Zwolle, the Netherlands, while at the same competition she and Rohdiamant took second in the Best Stallion Class Grand Prix.
On Relevant, Lisa was able to continue her winning streak. In 2001, she and Relevant were victorious at the Grand Prix Championship in Zwolle, the Netherlands. The pair then claimed 5th individually and silver with the team at the 2002 World Equestrian Games in Jerez, Spain – the best finish ever for the U.S. dressage team at a World Championship or Olympic Games. In the 2003 Open European Dressage Championships held in Hickstead, England, Relevant and Lisa took the silver, and Lisa became the 2nd ranked dressage rider in the world and the highest ranked in the United States.
Lisa competed for the U.S. dressage team at the 2004 Olympic Games in Athens, where the team took home the bronze medal. She returned to the U.S. in 2006, and is now based at Marsh Pond Farm in Wellington, Florida. Although Lisa works with many different horses, she prefers to work with stallions for the challenge. As with many other aspects of her unique experience, her love of stallions comes from her early work in Europe where she worked with stallions on breeding farms that needed riders.
As a proud member of the Vita Flex Victory Team, Lisa reports that her horses are "thriving" on Vita Flex products. She credits the muscle strength and quick recovery times of her competitive dressage horses to the supplements she uses from Vita Flex. As Lisa says, "Using these products is what defines the 'Fine Line.' This is the attention to detail. That fine line that gets you from second place to first place."
Lisa's super star horse currently is Pikko Del Cerro, or Cerro, a 10 year old Hanoverian stallion. Lisa first found Cerro through an equestrian friend from Denmark. In 2012, Lisa and Cerro won the USEF Developing Grand Prix National Championship title and the Top U.S. Bred Horse award at the 2012 U.S. Developing Horse Championships in Wayne, Illinois.
Most recently, Lisa and Cerro excelled at the 2013 Wellington Dressage National CDI-W, winning the Grand Prix Special with a score of 68.854%. This was even more spectacular given it was only Cerro's second-ever CDI.
Lisa and Cerro are now focusing on preparation for the 2014 World Equestrian Games in Normandy, France. As she looks forward to the next challenge, Lisa says, "whether it be my presentation, the way I care for my horse, or anything I do in my life, its finishing what I start… I think if you put effort, detail, responsibility, discipline into whatever you do, you will be a winner."
E-mail Signup
Receive the latest news and product updates from Vita Flex
Subscribe