Daily Life of Reef - Championship Horse Bio | Vita Flex
Gallant Reflection HU, known as "Reef," is a seven-year-old Zweibrücker stallion (Galant du Serein x Romaine, Rohdiamant) owned by Horses Unlimited Inc. and ridden by Olympic dressage bronze medalist Lisa Wilcox. Reef has been in training with Lisa since beginning under saddle, which has proven a wise decision as the pair claimed the top spot as the 2015 USEF Six-Year-Old National Champion. In 2016, Reef placed in the top six in the USDF Developing Prix St. Georges division of the National Championships. We checked in with Reef earlier this season in Wellington, Florida.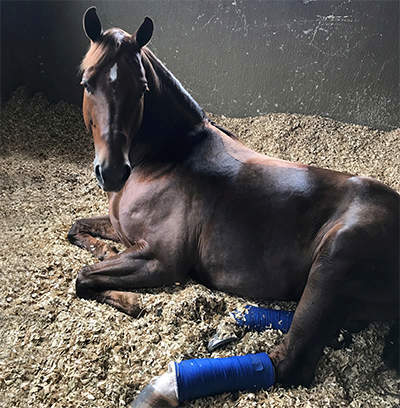 -What is your daily regimen?
Well, every day I try to fit in a nap after breakfast, even if I have to sneak one in while the humans are braiding my hair. After that I stretch my legs on the treadmill, sunbathe in my field and then polish the afternoon off with another nap. I work out six days a week, and love having my legs iced off afterwards.
- What's your favorite part of your daily schedule?
Aside from mandatory naptime, I have to admit I do enjoy spa treatments and bubble baths!
- What's your guilty pleasure?
I cannot resist my sweets, especially bananas. But really, anything my humans and Lisa are eating is fair game!
- Who is your favorite human?
I have a full team supporting me, but I know Lisa for sure. I make sure that I say hi to her when she comes in the barn and she usually greets me with something sweet!
- Your human, Lisa, speaks about your high intelligence. Do you have anything to add about that?
I may be young, but I am ready for bigger and bolder things to come. I love learning new tricks, and playing along with Lisa's games during our workouts. I am always up for a challenge.
- What is your least favorite part of barn life?
That piece of leather tightened around my belly when getting ready for Lisa's workouts. Is that really necessary?
- Which Vita Flex® products do you like?
I usually refuel with meals that have Vita Flex's AccuLytes™ for electrolytes with a yummy gingerbread taste, and Lactanase® to support my athletic physique.
Vita Flex, AccuLytes, and Lactanase are trademarks of Farnam Companies, Inc.
E-mail Signup
Receive the latest news and product updates from Vita Flex
Subscribe