Road Warrior: Jackie Ganter
Professional barrel racer Jackie Ganter hauls nearly 60,000 miles to compete in almost 100 rodeos each year with her four horses. That equates to a lot of hours behind the wheel, many of them late at night. She says traveling with her mom, Angela who is also a competitive barrel racer, makes the hectic schedule easier.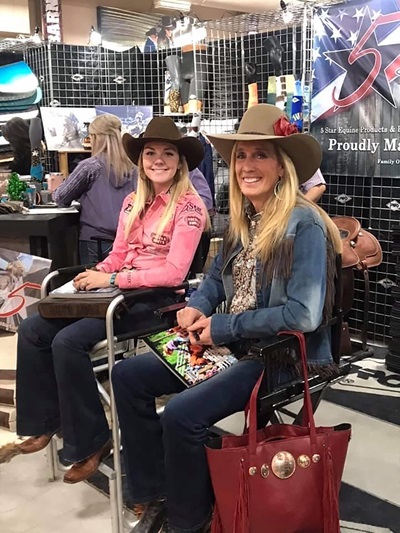 "We talk about everything when we're on the road," Jackie says. "I also like to listen to audiobooks, especially murder mysteries. I also really like Rachel Hollis' book "Girl, Wash Your Face" (2018). Energy drinks keep me going late at night."
The spring and summer rodeo season keeps Jackie on the road for weeks at a time. She only gets back to her home in Abilene, Texas if she flies back for a few days. Her travel takes her across the United States and into Canada.
"When I'm home I ride young horses and train and when I'm gone, I do touristy things," she says. "My favorite place to visit is Banff in Alberta, Canada. It's less than two hours from Calgary where we compete so it's an easy day trip."
The 22-year-old enjoyed a successful youth career winning both the All-American Youth Barrel Racing Championship and the 2015 Texas High School Rodeo State Barrel Racing Championship. She graduated high school a year early to become a professional and run barrels full time. She obtained her Women's Professional Rodeo Association (WPRA) card in 2015 and won the WPRA's Rookie of the Year that year, becoming one of the youngest riders to earn the title. She's also qualified for the Wrangler National Finals Rodeo (NFR) and the Canadian National Finals twice.
"It was indescribable to win the rookie of the year," she says. "It was a dream that was years in the making and to accomplish it was something I'll never forget."
The young professional has enjoyed tremendous success in her short career. Nothing replaces hard work and grit but she says that she's superstitious. For example, she won't trade in her hat. She first started wearing it in 2014 and it's been rained on and stepped on more than once but it's the only hat she's worn on the professional rodeo circuit, and she has no plans for replacing it. She's also particular about the tack she uses; she uses the same saddle pads and horse boots for every race.
"My stuff is my stuff. I stick to a plan and a routine, and I don't like that to be interrupted," she says. "If my mom uses something I've been winning in, I'll freak out."
Claiming a spot—and staying on the WPRA's standings—each year is not for the faint of heart. It takes a lot of hard work and late nights. But it's a lifestyle that's worth the sacrifices, she says.
"My favorite saying is be fearless in the pursuit of what sets your soul on fire," she says. "The rodeo life is tough but it's worth it."
E-mail Signup
Receive the latest news and product updates from Vita Flex
Subscribe