Vita Flex Victory Team Member Todd Minikus Wraps Up a Remarkably Successful Year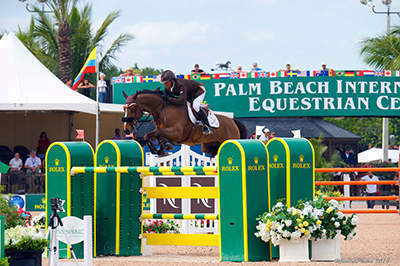 For Todd Minikus, every oxer and every standard mark the fine line between good and great. The champion show jumper has repeatedly crossed that line throughout his incredible year of accomplishments in 2014. Todd is thrilled to be a member of the Vita Flex Victory Team that provides top-quality supplements to his talented horses. Todd shared that Vita Flex® supplements are an important part of the program that keeps Quality Girl in winning condition.
Todd's outstanding year in the show ring was highlighted by his first-place victory in the Zoetis $1 Million Grand Prix in Saugerties, New York. He and his eleven-year-old equine partner, Quality Girl, outjumped more than thirty talented competitors to claim the million-dollar title. The pair continued to best competition at the 2014 Washington International Horse Show, where they won the $34,000 International Jumper Welcome Stake. Quality Girl, owned by The Quality Group, has won approximately $750,000 in prize money this year with her impressive jumping skills. Quality Girl and The Quality Group are ranked number one in the 2014 United States Hunter Jumper Association (USHJA) Owner Recognition - Jumper standings and will be recognized at the USHJA Annual Convention this month. The mare's total points for the year — 549,450 — gave her an impressive lead over more than 850 horses ranked nationwide. (Vita Flex Victory Team member Lauren Hough and Oh La La are also ranked in the top 15 of this prestigious group!)
Like Vita Flex, Todd Minikus does not settle for anything but the best. "If you're not the winner, you're the loser," he says. "There's no way a horse can go through the turn before the jump comfortably if her joints don't have the right lubrication, and we use Vita Flex joint supplements to support her joint lubrication."
Vita Flex is happy to have assisted the show jumper in achieving an entire year of continual wins. "The fine line between good and great is paying attention to your horses," Todd explains. "I've been referred to as being half-horse… I took that as a compliment. To be able to feel that power and speed and athleticism is very special. Vita Flex helps me keep my horses in tip-top condition for competing, and makes sure that we stay in the winner's circle."
Todd has big plans for the show ring in 2015. His sights are set on the $125,000 Trump Invitational in Palm Beach, Florida, at the start of the year, followed by 12 weeks of showing at the Winter Equestrian Festival in Wellington, Florida, and the World Cup in Las Vegas in the spring, and then hopefully a spot on the U.S. team competing in the Pan American Games in Toronto in July. Todd, along with Quality Girl and his other star mounts, will also be aiming to continue his winning streak in some of America's most prestigious Grand Prix competitions. "We did quite well in those million-dollar grand prix that the HITS organization put on this year, and I'd like to continue with that!" Todd said with a confident smile. "The World Cup Final in Las Vegas in April 2015 is for sure one of my main goals," Todd plans. With his current standings, this goal looks to be very achievable. As of December 2014, Todd is the leading FEI World Cup Qualifier.
Todd is a proud member of the Vita Flex Victory Team, and he has seen the supplements at work throughout his successful year. "The proof's in the pudding — we've got some of the top winning horses in the country," Todd said with a broad smile. One thing is for sure — wherever the new year takes Todd and his horses, Vita Flex will be a part of his winning formula!
Vita Flex is a registered trademark of Farnam Companies, Inc.
E-mail Signup
Receive the latest news and product updates from Vita Flex
Subscribe